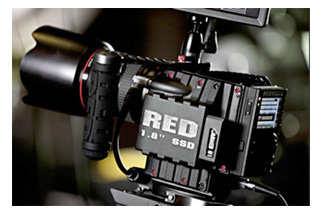 ---
RED Epic Camera
Clairmont offers the top-of-the-line RED EPIC for those who seek a compact and lightweight camera (body only 5 lbs.) with awesome resolution. It is, in fact, based on the concept of DSMC (Digital Still & Motion Camera), the EPIC has a 14MP Mysterium-X® sensor and can shoot from one frame to 300 frames per second (up to 96 fps at 5K, 120 fps at 4K, 200 fps at 3K and 300 fps at 2K).
The EPIC's 5K resolution results from a 5120 (h) x 2700 (v) pixel array, and formats that range from 5K RAW (Full Frame, 2:1, 2.4:1 and Anamorphic 2:1) to 720p RGB (16:9). It has a dynamic range of 13.5 stops and a 66 dB S/N ratio. Add to that RED's newly developed HDRx™ extended dynamic range technology and EPIC boasts an amazing dynamic range of up to 18 stops.
An important feature of the EPIC is its use of REDCODE, an extraordinary wavelet based lossless compression algorithm that compresses raw data from the sensor and allows the voluminous data to be captured on a REDMAG SSD module (64, 128, 256GB media).
Visit our office and see how the EPIC's interchangeable lens mounts provide you with unparalleled flexibility.